Pay Per Click Services Company India – PPC
What is PPC ?
PPC stands for pay per click, an internet marketing model in which those who advertise pay a fee every time their ad is clicked. Fundamentally, it is away to purchase visits to your website instead of trying to 'earn' those visits in a normal fashion.
One of the most popular forms of PPC is search engine advertising. It let the advertisers to bid for ad placement in the sponsored links of a search engine whenever someone searches a keyword related to their product or service.
What makes a winning PPC campaign?
Researching and choosing the right keywords
Organizing those keywords into well streamlined campaigns and ad groups
Establishing PPC landing pages optimized for conversions
Search engines reward advertisers who manage to make creative, relevant, and intelligently targeted pay-per-click campaigns by reducing the charge per ad click. This eventually leads to higher profits for your brand or business.
Google AdWords
Google AdWords is the single most popular PPC advertising system in the world. This platform helps businesses create ads that appear on Google's search engine as well as other Google properties.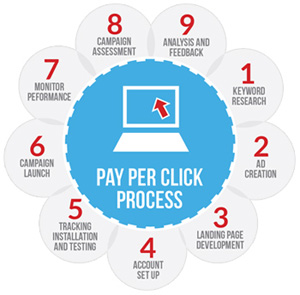 AdWords functions on a pay-per-click model wherein users bid on keywords and have to pay for each click on their ads. Every single time a search is made, Google digs into the myriads of AdWords advertisers and picks a set of winners to appear in the much valuable ad space on its search results page. These "winners" are chosen on the grounds of a combination of parameters, including the quality and significance of their keywords and ad campaigns coupled with the size of their keyword bids.